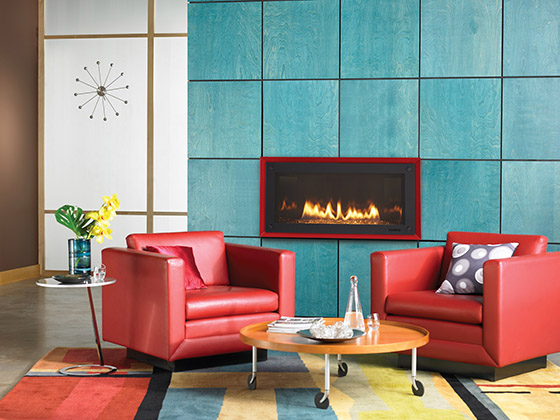 At Earth Energy's Fireside Hearth & Home, fireplaces and fireplace inserts are our passion. So what's in a name?
When brothers Ron and Dan Shimek began tinkering with fireplace designs in Ron's garage back in 1975, they didn't know they were starting on the path to become the largest fireplace manufacturer in the world. Nor did they foresee Heat & Glo's distinction as the "Innovative Leader" in the hearth industry. They just wanted to build great fireplaces.
Then in 1987, Heat & Glo created a product that would revolutionize the industry. With the introduction of the direct vent gas fireplace, Heat & Glo made it possible to install a fireplace safely in virtually any room in the home. Practically overnight, the hearth industry changed from primarily wood-burning to direct vent fireplaces that were gas-operated.
As Tucson and Southern Arizona's premiere vendor, Heat & Glo hearth systems are proudly displayed at Earth Energy's Fireside Hearth & Patio. Showroom visitors can preview a large selection of direct vent gas fireplaces each with different yet distinct advantages and opportunities for the builder or remodeler, architect , designer and homeowner. Series such as Rave, Lux, Caliber, Crave, Ion, Solaris,Slimline Fusion, Everest, Cresent, and see-through Multi-Sided. Discover our newest popular versions, the Primo and the Mezzo.
Today, Heat & Glo has even perfected wood burning fireplaces to produce high-efficiency heating that's EPA certified exceeding the strictest environmental standards. Heat & Glo's Premier Series meets qualifications where "burn bans" are the law; installable where other wood-burning fireplaces cannot go. The traditional has evolved.
Gas metal inserts by Heat & Glo, push the boundaries of where fire can go and how it can look. Reinvigorate a traditional fireplace opening with a contemporary insert ( with your choice of surrounds) that delivers a long ribbon of flame over river rocks or colorful glass media. Hundreds of options and looks for your home's space are now yours.
Electric Wallmount Fireplaces can even be installed beneathe TV's. Earth Energy's features Modern Flames Landscape Fullview Series, Ambiance Linear Series and the Dimplex Collection of Electric Fireboxes-the best of gas, wood and electric, in one remarkable fireplace.
Earth Energy's is proud to offer you the full Heatilator line of fireplaces as well. For more than 75 years, Heatilator's proven performance has allowed them to claim the first name in fireplaces. They have been around to witness every new development in the fireplace industry, developing many themselves.
Quadra-Fire fireplaces, free-standing units, gas metal inserts, EPA Wood burning and wood inserts, gas firebrick inserts and pellet inserts, give you more than just a pretty focal point for a sitting area in your living room, family room, bedroom, or den. They also provide efficient zone heat for that area while you enjoy the ambiance of the fire. From cozy, intimate spaces to high ceiling great rooms, Quadra-Fire has the perfect fireplace to keep you warm. Pure Performance from Quadra-Fire!
Make your plans to visit Earth Energy's Fireside Hearth & Home today. There's no other experience to compare!
{"SiteKey":"0013000000MqU7DAAV","Implementation":"Custom","CatalogIncludeCoupon":false,"CatalogIncludeContact":false,"CustomIncludeProductFilter":false,"CustomIncludeCoupon":false,"CustomIncludeContact":false,"CustomBrandFilter":"HNG","CurrentUrl":null,"CurrentDomain":null,"HHTDomain":"https://www.fireplaces.com","IsMultipage":false,"Filters":null,"AdHocProducts":null,"ADHOCIncludeCoupon":false,"ADHOCIncludeContact":false,"CustomCategory":"{48F089D5-796B-4464-8B86-EE02DF1FF86D}"}