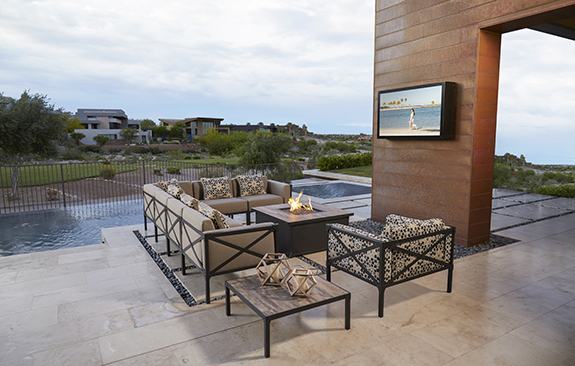 Outdoor living spaces are as varied as our homes themselves. From mid-town Tucson's intimate walled courtyards to the sweeping sunset vistas of SaddleBrooke, the Rincon Mountains, the Tubac Foothills or to the Catalina Mountain summer cottage decks, outdoor living is one of the joys we treasure.
With daytime temperatures soaring (no matter the time of the year), Tucsonans know that our desert evenings can bring temperature swings of 30, 40 even 50 degrees lower. Earth Energy's Hearth & Home specializes in fireplaces, fire pits and custom barbecues arrangements for every conceivable outdoor living space.
Fireplaces, fire pits and barbecues for your outdoor kitchens are on display in Earth Energy's 10,000 foot showroom on the "loop" at Costco Drive and Thornydale.
Whether your patio wall craves a sleek contemporary fireplace, a square, horizontal or vertical, it can be framed into your courtyard setting, or have a custom built Tucson fireplace reminiscent of the great outdoor halls built by, the licensed, bonded and certified fireplace experts at Earth Energy's Fireside Hearth & Home.
Built-in barbecues, both gas and charcoal grills are a popular patio inclusion for Tucson and Southern Arizona. We relish keeping our inside kitchen temperatures as cool as possible, so why not enjoy the benefits of cooking outdoors?!
Ever popular fire pits, both free-standing and custom in-ground models, in all prices ranges, are yours to discover at Earth Energy's Fireside Hearth & Home.
We can help you design your dream backyard. Call us today at 520-888-8867 or come in to our showroom, to start your home's outdoor living experience.